Otzi is the world's oldest mummy discovered in non-burial clothing. Scientists indicate his death was inflicted by some violent force refered to as the "single dominant mechanism." In 1998 we identified that as a 23 story mountain fall that stopped in a trench called the Tisenjoch Saddle. Years after this book appeared, scientists are coming around to our head trauma premise. They now say:

"A recently discovered craniocerebral trauma with major bleeding in the back of the brain along with a skull fracture, indicate a fall or attack shortly before his death."
​​This book compares the scientific and paleo-medical literature side by side with our data.​ People are amazed and PhD's have privately reviewed the data.
The book's real time portrait of Otzi was requested for Italy's South Tyrol Museum's 20th Anniversary exhibition in Bolzano, Italy.
With this book you will:
- Own a copy of a real time, face to face, Operation Star Gate Pentagon quality portrait of the man;
- Learn of his home village location, life and times, and their circumstances against other tribes;
- Read the details of the only death scenario that unites the various theories;
- Own Otzi's real time clothing and tool drawings before they were ripped or broken, which includes an unrecovered
tool;
- Learn of his concerns as he travelled, why he went where he did, and why he ended up where he did;
- Get a modern trail by trail number account of his last journey with maps and pictures leading to his final hour.
- To get a look at the other Otzi web pages click the Otzi menu tab above.

One reader e-mailed us:
"The Otzi book was very good. Now I'm no historian or expert on archeology but it's good to see RV put to use in such manner and with excellent results. I just hope the archeology and historical community find it of some use. I found the sketches and description of how Otzi died very revealing..."
©EvidentialDetails.com | Inbox@LNN1.com
Learn why Otzi fell from the ridge line (top) into the trench (red marker center). He hit his head hard on stone, rolled over onto his arm, went into a coma and was frozen to death. Look at this difficult off trail positioning. This is not a Neolithic crime scene location or where someone dragged his body!
Looking south. As the first scenario to indicate Otzi came to the pass from the North, you will learn where Otzi entered the above map. The book uses Alp's trail numbers to show his route from his now known base camp to the end.
Separate from the European Community, our research indicates:
1) That Otzi entered the Hochjoch pass from the North - not up from the South;
​
2) That Otzi had two bows of which only the unfinished Neolithic long bow was recovered;
​​3) That the arrow head in Otzi's shoulder blade was from his own quiver lodged during his fall;​​
​4)​ That Otzi's top down rib cage wounds indicate a series of severe impacts in multiple positions during the fall;
​
5) That Otzi's Mesolithic leg muscularization require a re-interpretation of this "Neolith." He clearly was not a farmer;​
Otzi's death impact. Otzi flew into the trench from top right corner (#1), hit his head on the rock face up (#2), and went into a coma. He rolled over on to his arm. The downward inertia sent his broken equipment across and up on to the trench's far side (#3 left). The 1 inch arrowhead in his shoulder blade came from his quiver when his unrecovered working bow was sprung, Without putrefaction or the start molecular bone calcification, the arrowhead was obviously not the cause of his immediate death.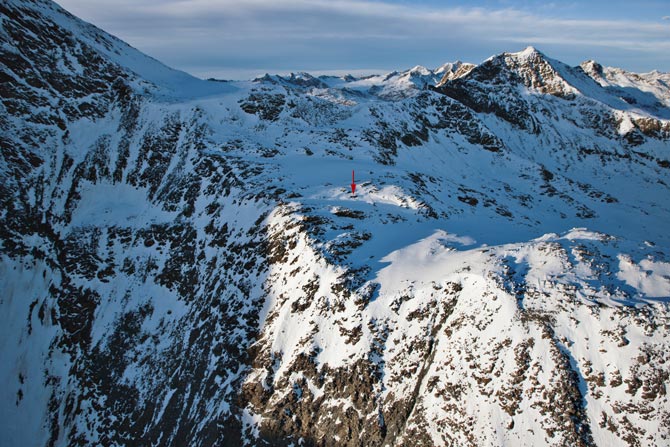 After falling over 300 feet (92 meters) Otzi slammed into the rocky ledge at about 160 mph (258 kph) top right. His body bounced over to the far side of the trench hitting his head hard on stone face up. He rolled over onto his arm, went into a coma and was frozen. Much of his equipment tumbled all the way through the trench and was on the far bank (left center). This explains all the mysterious equipment damage.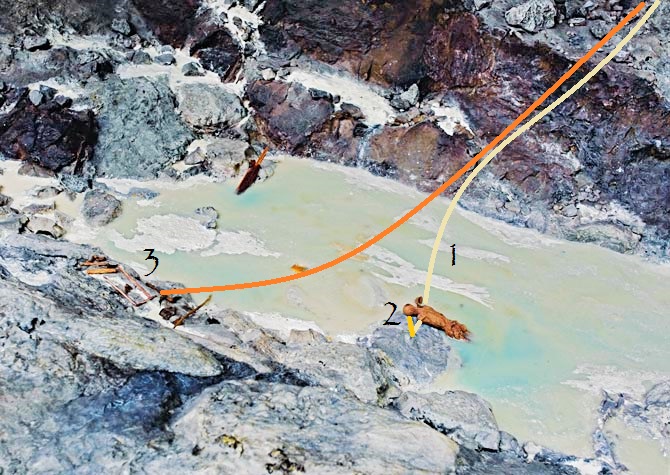 This is paragraph text. Double click here to edit and add your own text.
Otzi the Iceman
The First Book to Announce Otzi's Falling Death.
This is paragraph text. Double click here to edit and add your own text.
To see the other 2
Otzi pages, hover
on the above tab.
A Book Reviewer stated:
"This version of how Otzi died is clearly more plausible than the Museum's Neolithic arrow shot conclusion. This book is loaded with pictures that make the case for why Otzi was at 10,500 feet, where he came from and where he was headed. It will most probably change the nature of the discussion."